Grand Opening
Grand Opening " CHIIDA SPA" on Feb 13,2010
K. Chaleumsak Suranun (Director of Tourism Authority of Thailand – North) ,Right and Dr.Choa Duangdeun Gave a speech to CHIIDA SPA
Areeya Sirisopa (Miss Thailand) joined us and being our "FULL" member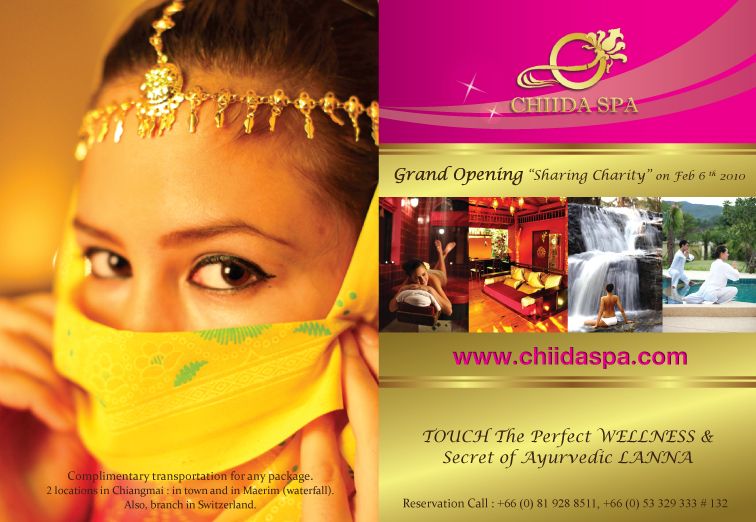 CHIIDA SPA. Make wellness a part of your life.
New Branch's Opening special package: Chiida Indian-Lanna Massage: a signature massage which stimulates the flow of blood, oxygen and "qi" (energy) around your body and brings deep relaxation and wellness | Baht 3,900, 1.30hrs.  Complimentary transportation for any package.
On February 13 th, 2010, Chiida Spa will celebrate the opening of it's new branch at Best Western Hotel, on Cholprathan road, Chiang Mai town.
Grand Opening Month, Some of CHIIDA SPA's Membership and Gift voucher purchased will contribute to " Chiangmai Lanna Cultural Institute" to support the ancient Lanna culture to the people within any project.
Reward yourself with the lavish attention of the caring therapists at Chiida Spa. Nestled amidst Chiang Mai's lush greenery, in a lovely Indian architecture embraced by waterfall, Chiida Spa is the perfect location for an Ayurvedic and Lanna Natural Spa treatment.
Originated from India, Ayurveda is a holistic science of life prevailing through several thousand years. At Chiida Spa this ancient art is combined with customized Lanna herbal treatments and wellness programs: an effective approach to improve your health.
Chiida Spa provides an extensive list of programs and treatments such as Ayurvedic-Lanna Spa Packages, Signature Oil Massages, Waterfall Therapy, Yoga training, Reiki Courses, Hot Stone and Shirodhara treatments. Products used at the spa are all-natural and non-toxic.
At Chiida Spa conscientious attention is paid to every element and produces a completely rejuvenating spa experience. Spa courses include Mountain View yoga session in the morning, vegetarian cuisine and 100% natural product for spa treatments… a cornucopia of blissful rituals devised for your desires with intuition, imagination and expert touch.